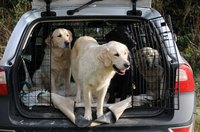 Preparation in advance of a trip with your family and pet can calm him for a much more enjoyable trip for all. Travel training helps to calm a pet who doesn't normally ride in the car or who only goes on short trips or doesn't like car rides. Surrounding your pet with his favorite toys and treats while traveling and getting up a bit early to feed, water and allow him to relieve himself before the trip can leave you with a content pet without excessive barking or meowing on the ride.
Safety First
Keeping your pet and your family safe during travel is of the utmost importance. A loose dog or cat roaming around a vehicle can cause accidents. Pets should be restrained in pet seat belts, or by car barriers to keep them in the rear of the car, or in a pet crate to keep them safe from air bags deploying or injuries from a sudden braking motion. Crates for pets should be tall enough for a pet to stand up, wide and long enough for them to turn around completely and have side vents for air circulation as well as a latch to lock them inside.
Travel Training
Pets who associate travel with a trip to the dreaded veterinarian for vaccines and don't enjoy rides in the car, need desensitizing to enjoy traveling with the family or pack. Start travel training in advance of your family road trip by feeding your pet a meal each day in the vehicle. Place the food dish in his crate, close the door and go for short rides around the block, then extend the ride time so he enjoys rides. Ending short rides at a fun spot, such as a dog park, help to decrease anxieties.
Prior to Travel
Before leaving on your family vacation with your pet, feed him a small meal. If your pet is a dog, take him on a walk so he eliminates, or allow a feline time to use the litter box before crating him for the ride. If your pet is fed and doesn't need to go potty, it is more likely that he will lie down in his crate on his favorite blanket or bed and take a nap.
Toys and Accessories
Take your pet's favorite toys and treats with you on a car trip. Cats enjoy a lovely toy with catnip on it to provide playtime in the travel crate. Dogs benefit from tiny treats or kibble tucked into a puzzle toy for their chewing and snacking pleasure.
Travel Considerations
Many pets suffer from motion sickness. It is a good idea to take extra towels and wet wipes with you on your travels. It is best not to feed your pet while the vehicle is moving and make stops for meals, drinking water and walks to prevent accidents in the car.