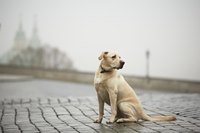 Craigslist is one of the largest online classified sites in the world, and using this site effectively may help reunite you and your pet if she becomes lost. Writing and posting a clear and concise ad as quickly as possible and including information such as what your pet looks like and where she was last seen, will assist in providing vital information to people in your area who may have seen your missing pet.
Taking Fast Action
When your pet becomes lost, taking fast action can mean the difference between finding your pet and never seeing her again. Posting an ad on craigslist can maximize the number of people who know your pet is lost. Type, "craigslist" into your browser. Choose your location, including your country first, and then your city or the city closest to you if yours is not listed. Choose "post to classifieds" and then "community." This will lead you to a page where you can choose how to categorize your ad. Choose, "lost & found," which will launch a page inviting you to enter your information into your craigslist ad.
What to Say
A missing pet strikes fear in the hearts of his owners, but try not to panic. Clear thinking will help you write an ad that is concise and informative, which is necessary to maximize your success. The title is key. If you're prepared to offer a reward, include the word "reward" in your post title. If your pet is a female black Labrador retriever mix, titling your ad, "Reward, Missing Female Black Lab Mix," may inspire people to view your ad. Include a photo of your pet. Choose a photo that gives the viewer the best idea of what your pet looks like. Your pet's eyes should be open in the photo. List the location where your pet was last seen and include your cellphone number. If your pet was wearing a collar or tags, include this information. If your dog is large and overweight, or thin, include this information. It might not be clear in the photo. Include information such as whether or not your pet is timid, her name and whether or not she answers to her name, if she's friendly with strangers and will respond when called. It's at your discretion whether or not you include the reward amount.
What Not to Say
Withhold a small amount of information from the ad to allow you to determine if your pet actually has been found if someone calls you. If your black Labrador mix has a white spot on her chest and her two rear paws are white, withhold the information about her white paws. If someone calls, ask if the dog has any particular markings or coloring. Don't ask if the dog has white rear paws. Let the caller tell you. Don't list your home address or last name. This might invite trouble, especially if someone assumes you're out looking for your lost pet.
What to do Next
Once you've placed your ad, check your email often. Make sure to keep your cellphone with you and keep it charged. Make posters and hang them up in your neighborhood. Make as many people aware of your missing pet as possible. The more people looking, the better the chances are your pet may be spotted. When your pet is recovered, remove your ad from craigslist.