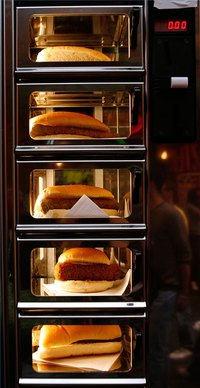 How to Buy Hot Food Vending Machines. Hot food vending machines provide people a quick meal or a snack option. There are many varieties of hot food vending machines available, and they each offer a variety of food and drink options. Labor costs associated with hot food vending machines are low because the machine is fully automated. You simply have to have someone restock the product and collect the money on a regular basis.
Find out the local health and safety regulations in your area. Your local health department can help you with this. Be sure to find out the temperature and thermostat requirements for your area along with how often you are required to check the temperature.
Check your local laws for licensing requirements. Vending machines usually require a special permit sticker on the machine.
Consider your client base and location. This will determine the type of food you want for your vending machine. You must consider the name brands that you want to offer.
Decide how many items you want to offer. This will help you to narrow down the vending machines that you consider.
Think of the type of currency you want your machine to accept. Some machines accept only coins, others accept coins and bills and some only accept bills.
Determine the power and water needs for your machine. Check the area where the machine will be placed to find out if those needs can be accommodated.
Compare prices and warranty information on new and used machines. Purchase the hot food vending machine that best suits your needs and budget.