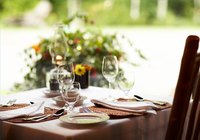 How to Name an Upscale Restaurant. When it comes to launching a business, the name is of supreme importance. And when it comes to launching an upscale restaurant, the name is even more important, as it must sound elite, inviting, appetizing and trendy.
Things You'll Need
Think about your clientele and about who will patronize the restaurant. Nothing will help you come up with a great upscale name better than actually putting yourself in the minds of the people who will eat there. These people are sophisticated, fast-paced and used to having the best of the best. They are not dining at your restaurant simply to eat, but to have an experience. Think about the traits these people have and jot them down on paper.
Consider the cuisine you are serving at the restaurant. When it comes to upscale restaurants, they often have a specific take on the kind of food that they are serving. Even if it is standard American fare, it's the best standard American fare (like a high-end steak place). Often these high-end places specialize in seafood, since seafood is quite pricey. Jot down the kinds of cuisine next to those traits.
Take in the decor of your restaurant when considering the name. If there is a large fire pit, immense wine cellar, or cascading waterfall, then those are all things to consider.
Keep it user-friendly. User-friendly doesn't just mean short, although having a short name makes it easier for people to use in casual dialogue. User-friendly means memorable. Some of those most exotic names are memorable because they are unique.
Narrow your selections down to your favorite five, and then test them on friends and family. Focus your testing group to people who would regularly eat at your restaurant. Since it is upscale, lawyers, doctors, bankers and professionals are those whose opinion counts.