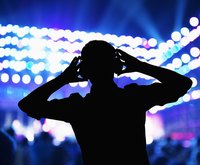 A nightclub's name is as important as the entertainment and ambience found inside. Some things that might come into play when naming a nightclub are its location, current trends, originality and history. In addition to the more traditional approaches to generating names for clubs, there are now websites aimed at helping people name their businesses.
Compile a list of words that convey your club's feel. Compile another list that describes your club's ideal clientele. Using a thesaurus, look up alternate forms of the words you have written down and add them to your lists. Look at all the words you have written down and see if any combination makes a good club name.
Choose a nightclub name with a little mystery. Remember New York City's fabulously popular CBGB? The the 30 years of its existence, crowds lined up on the streets to get in, even though most didn't know what CBGB means (country, bluegrass, and blues). You can use the first initials of your kids names, the initials of your favorite band or give your club a multi-word name and then make an acronym of it.
Research the history of the area where your club is located. You might find quirky historical facts that would make a good club name. You can even pick the year of a historical event as your nightclub name.
Consider naming your club for the type of music you play or entertainment you provide. If your club showcases local bands, something like "Live and Local" might work, because it defines what your club provides and is a memorable name.
Check out online naming sites, like Panabee, that help businesses come up with original names. Utilize the forums where you can ask for advice and suggestions from other business owners.
Push the envelope when naming your nightclub. Many have names with sexual undertones, such as seduction, desire and lust. If you want your nightclub name to stand out, select something out of the ordinary.