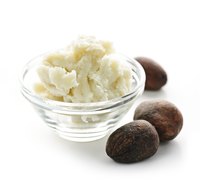 When stocking up on beauty multitaskers, make shea butter the first item you toss into your shopping cart. The classic natural butter is a blend of moisturizers and protectants. It contains fatty acids that aid in retaining elasticity, while vitamins A and E fend off environmental damage and speed up the healing process. Introduce shea butter to your skin and haircare routines for long-lasting nourishment.
Things You'll Need
Pure shea butter
Shampoo
Towel
Skin Care
Take a shower and gently pat your skin with a towel until it is 50 percent dry. Shea butter absorbs best into skin that is still damp.
Scoop up a golf ball-sized amount of shea butter and smooth it over your body in a circular motion. Concentrate on areas that become rough from dryness, such as the elbows, knees and heels.
Pull on some socks and warm clothing, such as pajamas. This extra heat enhances absorption.
Pat a dime-sized-amount of shea butter onto your lips and rub them together to banish flaking. Massage a quarter-sized amount into your nails and cuticles nightly to nourish and prevent breakage.
Hair Care
Wash your hair with your usual shampoo and gently towel dry. Skip the conditioner.
Coat your damp hair from root to tip with shea butter. Pull on a plastic shower cap to cover your hair entirely.
Turn a blow-dryer onto medium heat and hover it about an inch away from the shower cap. Move the blow-dryer in a circular motion for about two minutes to heat all of your hair. The heat will help the shea butter penetrate the cuticle, repair damage and add shine. Leave the cap on for 30 minutes.
Remove the cap and rinse your hair completely, concentrating on the roots. Style your hair as usual. Repeat the deep-conditioning process once a month.