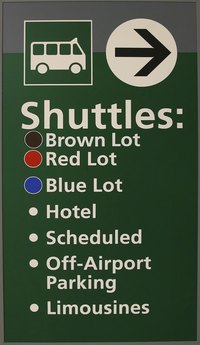 Airport shuttles are often cheaper and more convenient than other airport transportation options. You don't have to worry about parking, renting a car, hailing a cab or navigating the public transportation system. Hiring an airport shuttle can be done online or over the phone.
Shuttle Reservations to the Airport
Hire an airport shuttle by reserving the date and time you need online. National and local companies have websites where you can indicate the city in which you need a shuttle, whether it's your home city or your destination city. You'll be asked about your flight times to ensure you're picked up in plenty of time for your flight. You and your luggage will be dropped off at the terminal of the airline you're flying. If you don't want to book online, you can call the shuttle company and make a reservation.
Shuttle Reservations from the Airport
When you make your shuttle reservation to the airport, let the shuttle company know your returning flight information so you can make roundtrip plans. Or, you can follow the signs to ground transportation at the airport. Most major cities will have shuttles that can take you to your home, hotel or other destination. Before hiring a shuttle, check with your hotel to see if it provides complimentary shuttle service to and from the airport.