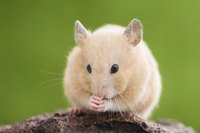 Although the condition is formally known as proliferative ileitis, this often fatal disease of hamsters is colloquially referred to as "wet tail." Whether or not a hamster survives an episode of wet tail -- or extreme diarrhea -- depends on how soon treatment starts. It's not something you can treat yourself -- your pet requires urgent veterinary care. Without treatment, hamsters often die within 24 hours after symptoms appear.
Wet Tail
Usually caused by infection with Lawsonia intracellularis or Campylobacter bacteria, wet tail generally affects young, recently weaned hamsters. However, any hamster is vulnerable. The age of onset often coincides with the time many young hamsters enter the pet store trade and are sold, so it's not uncommon for a newly purchased animal to quickly show signs of illness. Wet tail appears to affect Syrian and "Teddy Bear" hamsters -- long-haired Syrians -- more frequently than dwarf hamsters. It can take up to seven days from exposure for wet tail symptoms to appear.
Wet Tail Symptoms
Severe, watery diarrhea is the disease's primary symptom, so it's easy to understand how the term "wet tail" developed. In addition to loose stools, other signs of wet tail include a hunched appearance, appetite loss, poor coat, matted tail fur, dehydration and bad temper. You might notice blood in the feces or rectal bleeding. Some hamsters might suffer from rectal prolapse, in which part of the large intestine extends out of the animal's anus. If your hamster has mild diarrhea, it's probably not wet tail, but take him to the vet for an examination. Mild diarrhea often responds to dietary and management changes.
Wet Tail Treatment
Treating wet tail consists of giving the hamster electrolytes to replace those lost from diarrhea, along with antibiotics. You might have to force feed your pet. Your vet might recommend giving your hamster bismuth subsalicylate -- the primary ingredient in Pepto Bismol and generic versions -- to stop the diarrhea. Your vet will instruct you on giving your hamster the electrolyte solution, administered by mouth. Common electrolyte replacement fluids include saline solution or the commercially available Ringer's solution.
Wet Tail Prognosis
Unfortunately, many hamsters don't survive wet tail, even with veterinary treatment. While your hamster is being treated, stress him as little as possible, since the disease and medication is stressful enough. If your hamster recovers, don't breed him, as wet tail might have a genetic basis. Otherwise, your little friend should have the normal hamster life span of between two and three years.