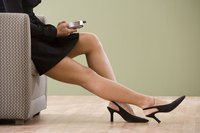 Whether you are a training athlete, a workout fanatic or your body has naturally larger legs, calves can often be a challenge to dress. Many tall boots, skinny jeans and tight leggings can make calves the star -- rather than a sidekick -- turning the department store into a place of fashion torture. However, there are a number of beautiful, easily attainable fashion hacks to help create your ideal leg line.
Trusted Trousers
A perfectly fitted pair of trousers always creates an elegant leg line. Boot-cut or wide-leg trousers that extend down in a straight line from the hipbone to the top of your foot make for a long, lean line. Wide-leg trousers completely cover your calves and give you added height. Boot-cut jeans also create that slimming, straight line. Avoid tight or skinny jeans if possible, since these pants tend to draw attention toward the calves.
Monochromatic Master
Dark, monochromatic colors create a slimmer, subtle line on your body. Look for dark leggings or tights and pair them with some black pumps or boots and a dark skirt. This trick makes your bottom half less imposing and creates a slimmer, subtler, comprehensive shape on the bottom. Avoid bright whites, pastels and bold patterns when choosing leggings. These colors add volume on the bottom half of the body. Light, airy colors, however, work very well on the upper half and bring the attention toward your face and away from your calves.
Skirt Magic
A carefully chosen skirt creates a flattering, camouflaging effect on the body. A maxi dress or floor-length skirt covers your calves completely. Alternatively, a classy A-line skirt that hits just above the knee creates a flowing line on top half of your leg and adds volume above the calf to create balance. Look for skirts with simple hems that don't draw attention toward your calves. Avoid skin-tight skirts or pencil skirts that cling and highlight the shape of your legs.
The Shoe In
The right footwear transforms the entire leg line, regardless of the pants or skirt you wear. Avoid ballet flats or overly clunky heels that add volume to your lower leg. Nude 2- or 3-inch pumps create a slimming, lengthening illusion. Black pumps with a solid heel and a peep toe balance out the calf area and create a long, lean line. Avoid shoes with ankle straps that create a choppy, shortened look and steer clear of unforgiving stiletto heels. The spiky heel can make legs look wider in comparison. Instead, opt for tall, knee-high boots with some elastic give around the calf; these camouflage larger calves and team well with trousers or skirts.