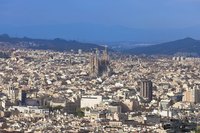 The gorgeous Mediterranean setting of lively Barcelona combined with its exceptional architecture and great food makes a traveler anxious to get in from the El Prat airport in record time. It won't take you long to travel the 8 or 9 miles to the city center, whether you take a bus, train, transfer or taxi.
Muni Gets You In and Around
The tallest peak in the city of Barcelona is named Tibidabo, a Catalan approximation of the devil's temptation of Jesus: "All these things will I give you if you worship me." And it's true that the city is packed with marvels. Getting accustomed to the municipal train system is the first step toward exploring, and no better time to begin than at the airport. The R2 train line takes you to the central city stations of Passeig de Gràcia and Barcelona Sants in about 20 minutes. Get to the train station by taking the covered bridge over from the T2 section of the airport terminal.
Bus to the Heart of Barcelona
Think of the Placa Catalunya as the heart of the heart of Barcelona; it's the grand plaza where the old town and the more modern areas converge, and the big avenues -- like Passeig de Gràcia and La Rambla -- star out from it on all sides. You can get from the airport directly to the Placa on the AeroBus. The buses leave from both terminals, T1 and T2. Alternatively, take the longer, cheaper ride on municipal buses. The N17 route runs to Placa Catalunya, the L46 takes you to Placa Espanya and the PRI whisks you to El Prat de Llobregat, the main train station in town.
Shuttles Are Called "Transfers"
"Transfers" may sound like you have a flight connection, but they are shared buses or shuttles that take a group of passengers from the airport to their chosen location in beautiful Barcelona. This is a good option if you are carrying a lot of equipment. You may get a drive-through of Barcelona first -- maybe a quick peek at the soaring towers of Gaudi's famous Sagrada Familia -- depending upon where other transfer riders are heading. It's not terribly expensive to downtown Barcelona, but the price will rise steeply if your destination is an outer area of the city like Sarrià, near Tibidabo. Book online on the airport website.
Taxi Time
Barcelona's reputation as warm and friendly contrasts markedly with the "chill factor" of cities like Paris, making shared transportation, public or private, attractive. But if you prefer riding solo, taxis are waiting to serve you around the clock at the El Prat. The fare depends on the time of day, with night rides most expensive, but small suitcases, babies and guide dogs are always no extra charge. Expect to pay more than 20 Euros or, depending on supplements, quite a bit more.