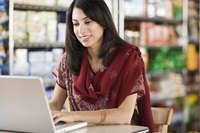 How to Sell a Product Online. It seems everyone is selling his or her wares on the Internet. Get your company and your product online fast, or you'll be left behind.
Things You'll Need
Web Site Developers
Web Software
Domain Names
Search Engines
Web software
Launch your own Web site. Contract with a Web site hosting company that will provide you with access to a Web server, an Internet address and e-mail.
Sign up for search engines. Register with each one individually or look for companies that can register you with myriad search engines, Internet malls and Internet directories for a discount price. They will also make suggestions on ways to increase the number of visitors to your site by registering certain search words and phrases.
Design your site so that it looks professional. You don't have to spend a fortune, but try to be original.
Exchange banner ads with other Web sites to help drive traffic to your site.
Promote your site offline. Put your Web site address on business cards, letterhead, fliers and sales tags and in classified and display ads. Until you develop a strong Web presence, most of the hits on your site will come from visitors who specifically sought you out.
Provide as many options as possible for people to do business with you online. Accept credit cards; take orders via fax, mail and telephone; and agree to deliver c.o.d.
Establish a steady supply of return customers by maintaining a high standard of customer service and implementing a policy of product guarantees.