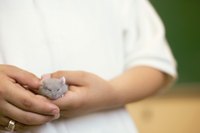 Most kids have a small animal pet such as a hamster or a gerbil at one time or another. Most kids will also find out at some point that the pet has escaped. Hamsters are good at slipping through the tiniest spaces, and they are eager to explore a world outside of the cage. You need to check the most likely places a hamster will hide first, then set a trap.
Things You'll Need
Flashlight
Cardboard box
Paper towel
Finding the Animal
Leave the cage door open in case the animal is nearby. He could return on his own.
Starting from the cage, take a flashlight and check in any dark place in the room or rooms the pet had access too. They could squeeze into sofa cushions, behind books on shelves, and even inside slightly ajar drawers. If there are any bags and boxes in the area, turn them upside down or gently shake them. Hamsters love to hide in bags.
If the initial search does not work, try some food lures. Put plenty of the animal's favorite treat in its cage. There is a chance he will sniff it out and return home. The next option is a trap. There are humane rat traps that will work on gerbils and hamsters, or you could try a homemade version.
Homemade Trap
Cut a hole just a little bigger than the pet in a cardboard box.
Place shredded newspaper inside the box. Prop a towel next to the box or some other "ramp," then place a paper towel over the hole.
Put some of the pet's favorite treats on the paper towel over the hole. If the trap works, the pet will fall into the box when it tries to consume the treats. The paper will break its fall. Have some more treats in the box so the pet is comfortable and well fed while it awaits a return to its cage.