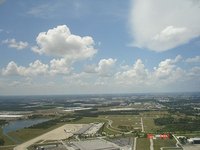 Do you travel often? Or, are you looking to book a domestic flight soon and want to find the least expensive fares available? This article will explain how to use Yahoo Farechase to find cheap flights.
How to Find Great Prices on Flights
Find the least expensive domestic airfares is to use Yahoo Farechase (in Resources below). This site allows you to find the best prices available from many airlines, as well as discount sites like Orbitz in one step without having to search each of the various sites separately.
Use Yahoo Farechase--it's simple. You just plug in your origin and destination cities, whether you want a round trip or one way and your dates of travel, and it pulls up the flights and prices. You are then directed to the airline or other website to book your flight.
Consider that once you find a great flight, you go to the website. Let's say that the best price was with AirTran. Now, you can visit AirTran for that specific flight. Call the airline or look on the website itself to see if you can get an additional discount for AAA or AARP.
Check to see if moving your dates around gets you a cheaper flight. You might find, for example, that there is a special right now for flying on Saturdays.
How to Pay the Least Amount Possible for Your Flight
Save even more on your flight. If you book your ticket on the Internet, you will generally save about $10 off the charge of calling the airline directly.
Know that some airlines are now charging you about $5 per flight segment to select seats. You can save money by not picking seats now. The best way to deal with this is to check in early at the airport so you can get the best seats left that day without having to pay those fees.
Consider that some airlines are now going to be charging for luggage over one checked suitcase. When you are searching for the best fares available, this won't be factored into the final price, since it is unknown whether a passenger will check extra bags beyond the one. Take this into consideration if you book with an airline that has this new policy and you will need to check more than one bag.