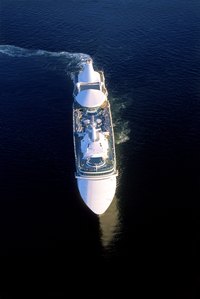 Similar to hotels, cruise ships offer different types of rooms, each with various accommodations. It's always a good idea to consider where you'll be staying before hauling your luggage inside the cabin. Consider your budget, tastes and needs when choosing a cabin for your next voyage.
Choose a porthole cabin if you're on a tight budget. Although these are typically on the lowest decks of the ship and have only a small circular window, they are also the least expensive, and rather economical if you aren't planning on spending much time in your room.
Pick an ocean view cabin so you can see the sea. These rooms are higher up than porthole cabins and have larger windows that offer a better vista. Still, their space is restrictive and the windows are sealed, so you can forget about feeling an ocean breeze shy of going above deck.
Select a cabin with a veranda if you like the wind in your hair. Typically, these rooms are larger and more expensive, and some even offer a sitting area with a sofa. A sliding-glass door gives you access to your own personal balcony.
Book a suite if you have the money and plan on spending a decent amount of time in your room. Suites are the nicest form of accommodation, providing the cruise guest with a balcony, bathrooms with bathing tubs, greater floor space and sometimes even butler service.
Pick the best location for your tastes; the rooms on a cruise ship come in a variety of locations. Individuals that get seasick easily should avoid cabins in the front or rear of the ship, because these receive the most motion. Even so, aim for the back if you want a larger balcony and a magnificent view of the sea. Higher deck cabins are closest to the pool and sun decks, so book one of these rooms if you plan on sunbathing and would rather not climb several flights of stairs every day to do so. Adventurers will prefer a room in the bow (front) of the ship, since ocean spray, high motion and fierce gales rock these cabins at every turn. Finally, note the location of all dining halls and dance floors. If you like quiet, never book a room directly beneath them.