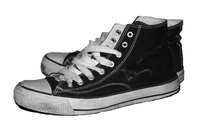 How to Decorate Shoes. When you head to your closet, you may see several pairs of practical sneakers, pumps and sandals. What you might not see are shoes that are as fun as they are functional. Learn to decorate your shoes for a host of funky, cute and beautiful looks.
Things You'll Need
Shoelaces
Ribbon
Trim or lace
Jump rings
Charms
Clip-on earrings
Metal studs
Rhinestones
Iron-on patches
Paint markers
Fabric paint
Swap your sneaker laces with laces in a new color, a length of textured ribbon or printed twill tape. Wrap lace around sandal straps, glue decorative trim to plain flip-flops or use ribbon and jump rings to add small charms to any shoe.
Add a clip-on earring as a quick, interchangeable touch of glamour. Simply open the back, position the button or dangle earring at the top of the shoe and then snap the clasp shut.
Dress up plain sandals and flip-flops by affixing metal studs or self-adhesive rhinestones along the straps. Arrange small gems around the tops or toes of your pumps and sneakers.
Make a statement by adding iron-on patches and decals to canvas shoes. If you'd rather not affix them permanently, simply add the back half of a piece of Velcro to your shoe. Adhere the other half to assorted patches, then wear and change the designs at will.
Create your own artwork with fabric markers or fabric paint. Draw a motif, decorate the straps, change the color of one panel or write a message along the side of your shoe to make a personal statement.