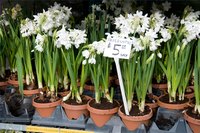 How to Grow Flowers and Sell Them. Growing and selling flowers can give you a satisfying and profitable home business. All you have to do is set up a large gardening area and grow a variety of flowers. Sell either cut flowers or divide and sell flowering plants at a local farmers market or flea market. You also can open your own roadside stand if you have the space and local zoning laws permit it.
Things You'll Need
Greenhouse
Greenhouse thermostat
Exhaust fan
Space heaters
Misting system
Planting containers
Growing lights
Greenhouses
Talk to your county clerk to find out about building permits and size restrictions. Select a greenhouse that is suitable in size and fits the location of your property. Greenhouses must sit in full sun to grow flowers all year long. Choose a greenhouse constructed with polycarbonate or polyethylene. These insulated plastics are better at insulating your greenhouse than glass.
Purchase a quality thermostat made for greenhouses to achieve accurate temperature control.
Put a ventilation system into place. Use an exhaust fan or have slats built into the top of the walls to regulate the air.
Consider how you'll heat your greenhouse in the winter. Small greenhouses often use portable heaters spaced evenly throughout the area.
Install a misting system to irrigate your plants and help regulate the air temperature naturally through evaporation.
Install growth lights if you grow flowers in a cold climate. Depending on the type of flowers you grow and how long your cold season is, you may need to provide extra light for your flowers to flourish.
Market Fresh Flowers
Join your Chamber of Commerce. Membership provides continual contact with other business owners who can help you to grow your business and give you advice on financial management and marketing.
Arrange to sell your flowers at local farmers markets. Since many areas don't schedule competing markets at the same time, you should have multiple selling opportunities.
Set up displays at the market or in your own stand to attract the attention of customers. Keep your area clean and the flowers fresh and bright. Fill any empty spots from sales with new flowers so your booth looks prosperous and professional.
Create a guestbook and ask each person who stops by your flower stall to sign it. Using a traditional guestbook makes the buyer's experience familiar and intimate, and it builds a list of contacts for direct mail advertising, thank you notes and discount offers.
Have several pre-written thank you cards on hand and give them to each customer who makes a purchase. Include a packet of flower food of a small card that details the history of a particular flower. Extra touches like this make you stand out from other flower growers and will earn you return customers.