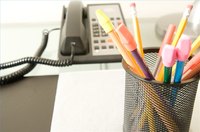 How to Choose the Best Pencil. Choosing the best pencil for your work, school, art class or hobbies can be difficult at times. A variety of pencils are available on the stationary market to choose from, including darker to lighter lead colors. Sometimes we need a thick pencil for wide lines or a thin pencil for minor adjustments. Learn how to choose the right pencil for any activity.
Decide what you will be needing this pencil for. Whether it is for art class or stenciling, they will require different sizes and shapes of pencils. Stenciling will require a thin-tip pencil, while art class might require a thick pencil or chalk pencil.
Ask the store keeper at your stationary store to see what their advice would be. The owner will give you some good suggestions for the proper pencil.
Pick a B pencil if you are taking art class, and you need a good graphite-based pencil. Graphite can add affect and enhance your drawings and sketches.
Buy an HB pencil if you need pencils for school. Most schools require that their students use HB pencils for tests, exams and other courses. It isn't as dark as the graphite pencils.
Choose a Tombow MONO 100 Pencil if you are a writer, or for creating drafts in architecture. They are known as the best pencil for this type of work and design because they are thin.