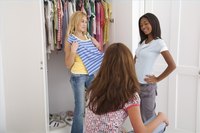 How to Dress Well as a Tall Girl. Finding clothes that compliment height is sometimes a challenge. Specialty shops and some department stores carry clothes for those who are tall, but it's important to make the right clothing selections to truly dress well as a tall girl.
Dress to Make Height Less Noticeable
Wear skirts that are a medium length and have a slight flare. Showing too much leg makes you look taller and a long skirt or dress gives your body length.
Appear shorter by wearing skirts and tops to give the appearance of a horizontal break line in your height. Tuck in your shirt or wear a wide belt over your top at the waist.
Make your legs look shorter with low-rise pants or jeans.
Choose a style and size that has a little extra fabric but isn't baggy.
Look shorter by wearing longer jackets and taking shoulder pads out of jackets and blouses.
Enjoy Your Height
Dress well in the latest fashion for tall girls. Wear layered separates in contrasting subtle colors.
Enjoy wearing boots, leggings or ribbed knee-high socks with skirts.
Use design in your favor with patterns that have horizontal lines.
Walk comfortably in shoes with lower heels to appear shorter, but don't deprive yourself of the style of a high heel. Choose shoes that you love and wear them with confidence.
Compliment your outfit with a stylish purse. Consider a shorter strap rather than a shoulder bag with a long strap.
Take pride in who you are and how you look. Hold your head up high, put your shoulders back and walk with dignity knowing you are tall and dress well.