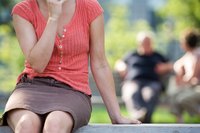 How to Select the Right Length Skirt. It's been said that a skirt should be long enough to cover the basics, but short enough to be interesting. Depending on the person, weather or occasion, the right length skirt can be the most important aspect of an attractive outfit. Learn to choose the right length to enhance your look in any season.
Consider your age. Regardless of the physical shape you're in, it is likely that a miniskirt may not look appropriate for you if you are 50, as opposed to when you were 20.
Pay attention to the season or time of year. Shorter skirts look better in the spring and summer months than they do when it's colder.
Examine the event at which you will wear the skirt. The more business-like the event, the more conservative you need to be. Conservative skirts should hit below the knee or lower when you are standing up.
Think about your level of modesty. Select the skirt with the length that feels most comfortable to you. Even if you have great legs, you won't look good in a short skirt if you lack the confidence to wear one.
Watch the current fashion trends. This season's popular styles often indicate where the hem will fall.
Consider the shoes you want to wear. Shorter skirts or miniskirts look great with flats, while sandals with heels or pumps accentuate longer skirts.
Know the style of the skirt you are wearing. Many styles and cuts should only be worn at certain lengths. Learn about the ideal lengths of various skirts at Buxom (see Resources below).