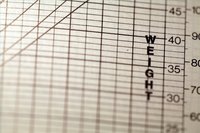 How to Read Body Mass Index. Even though getting a body index mass number is easy, knowing how to read it is another matter entirely. You need to know, for instance, whether low numbers or high numbers are better, and whether the numbers need to be read differently depending on gender, race or ethnicity. Fortunately, reading a body mass index chart is easy to learn.
Obtain your body mass index number. In order to get this number divide your weight in pounds by your height, in inches, squared, and multiplying the result by 703. For most people, the number will be somewhere between 18 and 30.
Look up a body mass index chart. These can be easily located on the Internet, most notably Wikipedia's color-coded body mass index chart (see Resources below). The Heart Lung and Blood Institute also offers a body mass index chart, as well as an online body mass index calculator to aid people in their calculations (see Resources below).
Find your body mass index number. Most body mass index charts have the body mass index grouped in an easy-to-read format within the chart itself. The numbers are always arranged in a left-to-right format with the lowest numbers on the left.
Determine what category your body mass index number is under. A body mass index chart has 4 categories-underweight, normal, overweight and obese. The range for underweight is below 18.5, normal range is 18.5 to 25, 25 to 30 is overweight and a body mass index reading above 30 indicates obesity.
Select the body mass index chart that works best for you. Some body mass index charts are color-coded and subdivided into levels of severity, such as the 3 severity levels of obesity. Others require that the user find her height, then cross-reference it with her weight in order to read what her body mass index number represents.