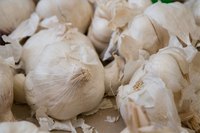 How to Use Garlic for Anti-Aging. Garlic is almost an entire pharmacy on its own. Not only does it have strong anti-aging properties, it is also a powerful antibacterial and antiviral agent, a potent blood thinner and full of antioxidants for good health. Whether you eat it raw, cook it or use it in extract form, garlic is a wonder vegetable that should be consumed daily. If you want to use it for anti-aging purposes, there are several easy ways to do so.
Things You'll Need
Chop up a raw garlic clove onto a salad every day. The beneficial anti-aging properties of garlic are at their strongest when the garlic is raw.
Swallow one to two whole garlic cloves each day, just as you would a vitamins. This is a good way to get raw garlic for people who don't like the taste of it.
Roast an entire head of garlic in the oven until the cloves are soft. Squeeze the cloves out of their thin, papery husks onto a plate, then use a butter knife to spread the cloves on bread as a substitute for butter. Do this once a week.
Wait ten minutes after chopping up garlic for soups or sauces before putting it into the cooking pot. Leaving garlic out for ten minutes before cooking it allows it to retain more of its anti-aging compounds during the cooking process.
Take a garlic supplement every day. Garlic supplements have the beneficial properties of garlic concentrated in pill form, without any lingering smell associated with them.