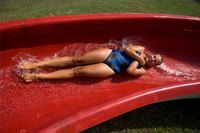 How to Choose an Appropriate Bathing Suit for a Teenage Daughter. Taking one look at the junior's department of any retail shop is enough to make any mother cringe. The fashions are typically low-cut, low-slung and very low on a parent's scale of modesty. The swimsuit selection can be particularly daunting. Choosing an appropriate bathing suit for a teenage daughter has indeed become a challenge, but it is one you can win.
Choose a tankini, which is fashionable but is more modest than the traditional bikini. This suit particularly flatters young girls with long torsos and small busts.
Look at two-piece bathing suits that have a bra cup with underwire and full-cut bottoms if your daughter is set on having a bikini.
Choose a one-piece bathing suit with a single shoulder strap for your long-legged teenage daughter, which is trendy without being overly revealing and is appropriate for both the beach and the pageant stage.
Ask your daughter to try on full-cut, one-piece suits that have a vibrant color or wild patterns that are attractive to teens. Not even a teenage daughter can say a neon-green bathing suit or one with a purple cheetah pattern is for "old ladies."
Encourage your teen to choose a suit that shows off her muscle tone rather than one that is skimpy or reveals cleavage. You want her to be both confident of her body and modest, and suits that are strapless but provide good coverage and underwire support can help.
Have your daughter only select swimsuits that fit her well by taking her measurements and looking up her correct bathing suit size. Make her try on any suit you both like, and be sure it is neither too small nor too large. An ill-fitting suit that is too little or big will be revealing, especially after its first time in the water.
Mix and match tops and bottoms of bathing suits to get a great fit for your teenage daughter. Though lots of suits come as sets, there are still some manufacturers that sell tops and bottoms separately. If your daughter is large busted, you might want to invest in an appropriate, solid-colored bra top and match it with several different complementary bottoms.