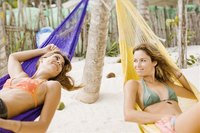 How to Fit a Bikini. Whether it is the classic itsy-bitsy, teeny-weeny yellow polka-dot bikini or something with a little more fabric, everyone wants a good fit to their swimsuits. More than a size chart is required to find that perfect fit. There are many other factors to consider as well.
Find a good fit by measuring your body before you start shopping for a bikini. Compare your measurements to the bathing suit size chart if available at the store at which you are shopping. A basic rule of thumb is that a well-fitting swimsuit will be a size larger than your top size.
Try on several suits before making your final decision. Always lift your arms, do some stretches and bends and sit down in the bathing suit to test that everything stays in place while you are wearing it. Look for any slack in the seat signaling that you are wearing a suit that is too big or any indentations in the skin, which could alert you to choose a size larger.
Test the bottom of your bikini by standing on your tiptoes. If the suit rides up, chances are the suit is too small for you. If, on the other hand, you have any extra space in the crotch area when you extend your body, you probably are wearing a size too big.
Take a close look at the straps on your suit. Move around to make sure they do not slip, which indicates that the top is too large. Make sure the straps lie flat against your skin and do not cut into your shoulders.
Check the waistband and leg openings of the suit for a snug fit. Watch out for any puckering of material. Test the bands by pulling them out a little and seeing how quickly they snap back into place. Do this with the bottom band of your bikini top as well.
Take a look over your shoulder at your rear while trying on bathing suits. Make sure you are adequately covered and that the suit moves with you and does not expose your cheeks.
Buy a suit with a good built-in bra if you are large busted. Look for a labeled cup size and underwire or sturdy panels for support. Make sure you have adequate coverage when bending forward at the waist.