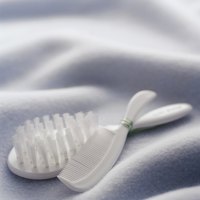 It's sometimes tough to get the tooth or bristle base of your comb or hairbrush really clean. The residue from hair gels, spray and even skin cells can leave a white, oily layer on them. Use a simple recipe to get them as clean as new.
Things You'll Need
1/2 teaspoon cheap shampoo (pick a scent if you like)
1/2 cup ammonia (this comes in lemon, too)
Run a comb through all your brushes and pull out all the hair you can.
Mix together all the ingredients in a bowl large enough to accommodate the brushes and combs you want to clean.
Submerge your combs and brushes in the bowl. You can also clean curlers and curling iron add-ons such as brush attachments. Let them all soak for 10 to 15 minutes.
Remove your hair accessories and make sure they're really clean. If not, run them under the tap and return them to soak a little more.
Rinse the combs and brushes really well with warm water. You can tap the combs and brushes against the sink to take out excess water. Lay them on a towel and let them air-dry.