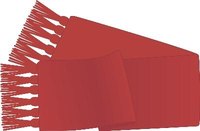 How to Wear a Large Scarf. Wearing a scarf can add originality and style to any outfit. You can use a large scarf to create exotic or chic looks to match any mood or occasion. Adding a scarf to an outfit is one easy way you can make the transition from office wear to party wear.
Create an exotic look by draping a large scarf over your head. Find the center of the scarf's long edge and center it on your forehead. Allowing the edges of the scarf to hang in front of your arms will keep it from sliding down your back.
Gather the top edge of the scarf and tie it around your waist. Allow the ends to hang down to the hem of your dress, creating a secondary skirt.
Accordion-fold the scarf lengthwise, reducing its width to about one foot. Wrap it around your waist and tie it at your hip, wearing it like a pareo. Adjust the untied side of the scarf so it lies smoothly along your hip.
Fold the scarf lengthwise until it is six or eight inches wide. Wear it gracefully over your shoulder like a sash, allowing it to hang down further in the back than in the front. If your outfit includes a belt, buckle it over the sash to hold it in place.