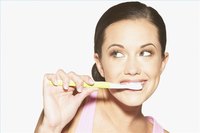 How to Clean Dental Veneers. Once your dental veneers are in place, you may not need any follow-up appointments. Cleaning and caring for your veneers can be done at home quite easily and without the need for any special equipment. While your teeth may have some sensitivity for a few days after the fitting, they will eventually go back to normal-so you will be able to clean them and care for them normally.
Things You'll Need
Use whitening toothpaste to clean your dental veneers. While you cannot change the colors of the veneers, the toothpaste can prevent plaque and stain films from forming on top of the veneers, affecting the overall look and feel of the implants.
Brush, floss and rinse as you would your natural teeth. Keeping your dental veneers in good condition will prevent cavities and gum disease from changing the color of the teeth behind the veneers (which will have an effect on the color of the veneers themselves).
Clean dental veneers with professional toothpaste formulas, such as Supersmile (see Resources below). Available only through dentists or online, the toothpaste was especially formulated to prevent and remove stains on dental veneers without the use of abrasive components.
Ask your dentist to demonstrate the proper technique for flossing after having your veneers bonded. This will prevent you from putting pressure on the wrong places and causing chips or fissures. Your dentist may ask you to slide your floss out sideways rather than pulling it straight down from the gum line.
Schedule regular checkups and professional cleanings. While a hygienist will not need to perform any cleaning directly on the veneers, he can ensure that there is no plaque between them or on the backs of your teeth. Request the hygienist who has the most experience treating patients with veneers.