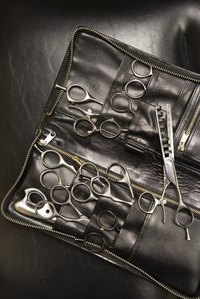 Scissor technology has progressed beyond flat blades to specially ground blades with a specific bend (set) to the blade to ensure proper contact between the blades. Modern stylist shears can cost upward of $200, so stylists are cautious about entrusting them to just anyone. Becoming certified as a Master Sharpener will lend credibility to your small business, and attest to your skill and experience in dealing with modern, high-tech scissors.
Obtain a good quality scissor-sharpening machine. There are a variety of models available ranging from those with a single rotating grinding disc to those with multiple grinding discs.
Train in the use of your particular machine. Often the manufacturer will offer training in the use of its machines that lasts one to four days. Learn proper use of the machine, proper grinding angles, how to deal with beveled and convex edges, and how to maintain your machine.
Practice your sharpening skills. You can't become a master after only a few days of training; it requires experience and practice on hundreds of pairs of shears.
Take an advanced certification class from either the manufacturer or the National Shear Sharpeners Guild.
Pass the certification test and you will be a Master Shear Sharpener.