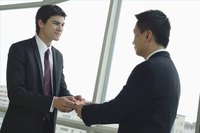 How to Have Proper Business Card Etiquette. Our business cards represent us. When we offer one to a business associate, we are offering a bit of ourselves. Similarly, when we accept a business card, we're accepting a bit of that individual's identity. Because business cards are so important, it's a good idea to mind our manners when we're giving or getting one.
Have a business card ready at all times. Keep them in a briefcase, wallet, purse, glovebox, gym bag, coat pocket, desk drawer, suitcase and desk top. Practice a business card presentation that conveys ease and confidence.
Offer only crisp, clean, business cards with current and correct information. Throw away damaged, bent or out-of-date cards.
Invest in business cards that reflect the business as well as the desired image. Hire a designer and use a professional printer for the best, most polished look.
Offer a business card only to those who have asked for it. Present the card face up and place it in the hand of the individual.
Offer only one business card at a time to an individual. Leave multiple business cards with an individual only if requested to do so. Request business cards from peers. Wait for individuals of higher position to offer a card.
Accept a business card as though it were a gift. Review the card carefully and ask any questions that come to mind, including pronunciation to avoid a gaff in the future. Thank the party for the card, compliment the card's design or logo, and put it away carefully and thoughtfully in a planner, notebook or business card case.
Take advantage of opportunities for free advertising. Post a business card on bulletin boards dedicated to that purpose. Drop a business card into restaurants' drawings.