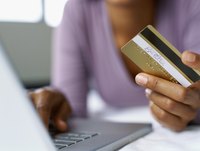 Amid the millions of websites on the Internet and perhaps thousands of businesses online who sell similar products or services, it can be difficult to stand out. Getting noticed online requires diligence and persistence, a deep understanding of your audience and the correct content. While search engine optimization and strategies based on analytics will help, they aren't the only courses you can take.
Know Your Target Market
Before writing any content, choosing a theme for your website or developing the graphics you'll employ, consider who you want to go to your site. Get to know the issues that your target market finds interesting, what demographics they populate, where they live, what kinds of business issues affect them and how they will use your product or service. With sufficient information in hand, you then can build a site, complete with blogs, media releases and graphics that your customers are looking for, need to know and want to see.
Keep Content Updated
Your regular viewers want to see new, fresh content when they visit. Search engines rank sites according to the dates on their latest updates. New, interesting content like videos, current events and breaking news attract viewers and also serve as the best way to get your posts shared online. The browsers you attract will send a link to your site when they find the information credible and/or exciting. Add social media buttons to your site and links to review sites to make it easy for viewers to share your new content.
Pay for Exposure
Google, Yahoo! and other search engines such as Bing, AOL and My Web Search offer many ways to advertise on their sites. Buy ads that appear when browsers look for one of your products; purchase space on popular search engine results pages; use pay-per-click ads so you only pay a fee when someone clicks on your ad. Pay celebrities to blog on your site or to write reviews about your service. Hire writers to keep your content fresh daily or at least weekly to keep your rankings high.
Embrace Social Media
Build profiles on those social media sites that your target market visits. Certain social media sites attract different users. LinkedIn, for example, is more business-oriented, while Facebook attracts people interested in events, entertainment, social issues and people. Post new content on these sites at least once a week, and not just about your latest sale or newest offerings. While you can use social media to occasionally send out coupons or announce sales, followers will become disillusioned if that's all they ever see from you. Post opinions on current events, stories about celebrities, and entertaining graphics about trends that will engage readers and encourage responses and shares.