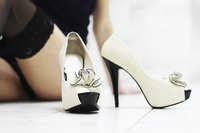 Wearing peep-toe shoes with tights -- once a fashion faux pas -- can be a sleek or playful fashion statement when done correctly. Rule No. 1: Stay away from tights with reinforced panels across the toe.
Open-Toe Tights
Toeless tights were created especially for peep-toe shoes and are available in skin tones to create the illusion of bare legs. Resembling normal hosiery, toeless tights have an opening for the big toe and another for the remaining toes, so you appear as though you're tights-free when you pair them with peep-toe shoes.
Playing With Colors
Experiment with bold color combinations or keep it classic when wearing peep-toe shoes and tights. The striking contrast of deep green and turquoise or hot pink and burgundy cause a look-at-me moment, while classic tan and navy are suitable for the office. Stop traffic with bright red tights paired with animal-print shoes or go with black tights and black peep-toe shoes to create a subtle illusion of longer legs.
Trying Out Textures
Play with textures when pairing peep-toe shoes and tights. Try ribbed or patterned hosiery with simple peep-toe flats or introduce texture with the shoes themselves. Add velvet or snakeskin-patterned pumps to your shoe wardrobe to add a kick to any eye-catching ensemble.