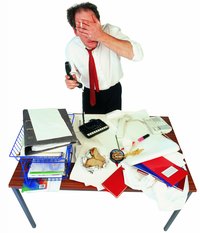 Even if you're on top of everything that's assigned to you, getting your job done right is nearly impossible if your boss isn't on the ball. It's your manager's job to make sure you understand the company's objectives so you can prioritize your work efforts. If your boss doesn't give you the information you need, constantly shows up late or arrives at meetings unprepared, you're not powerless to change the situation. Realize that you have the power to manage your boss, and you can turn a negative work situation into a more positive one.
Save records of correspondence with your boss, other higher-ups and colleagues by taking detailed meeting notes and hanging on to email threads. If you can't count on your boss to answer your questions quickly, your second-best option is to maintain conversation records you can consult when you're not sure about your direction.
Ask your boss regularly about upcoming projects, especially if you have a last-minute manager who likes to dump on you on Friday afternoons. Word the question right, and you'll look like a go-getter, not an annoyance. For example, "Do we have any other big projects coming up? Sometimes, I get some downtime between report reviews, and I could use those extra minutes to get started on what's next in the pipeline."
Schedule meetings to take longer than you anticipate. As "Forbes" writer Lisa Quast points out, some managers are less organized because they're more concerned about connecting with people than administrative details. If that description fits your boss, a little small talk in your meetings is probably inevitable. When you have extra time, you'll find it easier to steer the conversation back on track with a smile instead of a scowl.
Set up the meeting minutes so you have something to discuss before your boss arrives, especially if he has a reputation for showing up late. Use the first part of your meeting to discuss issues your boss doesn't need to be present for, so the rest of the team doesn't view your meeting as a waste.
Send succinct email briefs a couple of hours before meetings, reminding your boss of the agenda and bolding any crucial items you need to discuss with her. If your boss works last minute, chances are that she'll show up unprepared. A reminder gives her some time to turn over a few ideas.
Design your boss's pitch for him if he needs to propose something to upper management on your behalf. Draw up the slide presentation and meet with him beforehand to brief him on your position. Emphasize that he can add his own thoughts; you just wanted to make your own ideas clear.