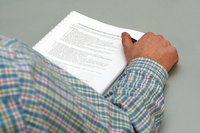 How to Put Together a Marketing Requirements Document (MRD). A Marketing Requirements Document (MRD) outlines the requirements a new product or update to an existing product must meet according to market drivers. Product engineers use an MRD to create the product. Product managers and product marketing managers put together MRDs, but they are used throughout an organization.
Things You'll Need
Market data
Customer feedback
Collect customer and industry feedback about existing products or industry voids. In order to determine what the market requires, you have to do market research. It's a product manager's job to pull together all of the feedback on a product to determine how to make it better.
Put together a list of features to meet market requirements. Market requirements are often vague requests that must be synthesized into concrete solutions. You will likely need to discuss options for features with your product engineer or engineering team to determine what is and is not possible.
Determine what you would like your new product release to accomplish. New products or enhancements to products can attract new markets, demonstrate innovation or improve customer satisfaction. Having a goal in mind for a product release can help streamline your list of features.
Create a concise document that outlines and prioritizes feature requirements and includes market data, competitive analysis and use cases. Different industries and companies have different norms for MRDs, so take a look at a past MRD from your company as a template.
Post your MRD somewhere where everyone can have access to it. It can be printed and distributed, posted to a file server or uploaded to an internal website, for example.
Update market data and competition analysis as necessary in the MRD.