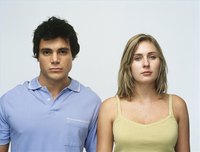 How to End a Relationship With a Borderline Personality Disorder Sufferer. Ending a relationship with a person who suffers from Borderline Personality Disorder poses special challenges that you may not encounter with people who do not suffer from the illness. You need to be prepared to make a safe and total exit when leaving a Borderline Personality Disorder sufferer.
Take some time away from your relationship. Go to a place to think objectively about it. If you come to a decision to leave your relationship, vow to keep that decision. Verify that you are in the right state of mind to undergo the change.
Plan your detailed exit silently and swiftly. Borderline Personality sufferers fear abandonment; if they sense that you are about to leave, they will do all they can to stop it. Likewise, make your plan foolproof. Don't make mistakes; plan for each possible scenario that may arise as a consequence of your leaving.
Record your partner's abuse if there is any. You may need to have this type of documentation if a Borderline Personality Disorder sufferer makes false accusations when he finds out that you have left for good. Make the documentation as descriptive as possible. Note dates, times and the types of abuse that you endured.
Cover all your legal bases. Consult with a lawyer. Inform the lawyer of your intent to leave. He may be able to advise you on the proper legal moves if you are married. Lawyers can also help you if you are seeking a restraining order.
Hire movers to help you move. Movers can help you get all of your personal things out of your shared living space at once. Movers also can act as witnesses if your partner acts out while you are leaving.
Inform your boss and the police of your intent to move. Borderline Personality Sufferers may try to sully your reputation or name once you have left them. Police officers may also act as escorts if you tell them that you have suffered abuse in a relationship and are leaving your partner.
Leave quickly. Make your plans and physical exit hasty. Lingering may cause more abusive behavior.
Get therapy. Find a therapist who is familiar with Borderline Personality Disorder. Talking out your decision with a trained professional helps you cope with your relationship and your decision to leave it.