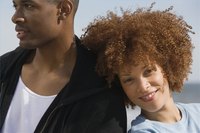 How to Create an Afro Puff. An afro puff is a hairstyle that is unique to hair of African descent. You can place as many puffs as you like in your hair since this is a fairly easy style to achieve at home. All you need is a little time and patience.
Clean your hair well and apply a heavy, leave-in conditioner. You can allow your hair to dry completely or you can leave it damp. Ensure that your hair is tangle-free with the use a comb, brush or you fingers before you proceed to Step 2.
Part your hair into sections. You can make many afro puffs or you can put in only one. Decide how many puffs you're comfortable with and make the sections as even as possible, with close to the same amount of hair in each.
Wrap a coated hair band tightly around the base of each section of hair. You shouldn't use plain rubber bands because they can grip too tightly and cause you to lose some of your hair when you take out the band.
Comb through the afro puff with your fingers, a brush or a comb to ensure that your hair is tangle-free. You can sleep with a cap to make the puffs last a little longer or you may have to redo the hairstyle every day.