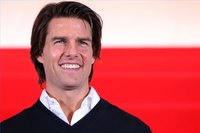 How to Dress Like Tom Cruise. Tom Cruise has become an icon for the American public. While creating a phenomenal acting career, he has also managed to be popular media's darling and sometimes its victim. Still, Tom remains a trendsetter among men and is adored by women. Some of that adoration is his style of dress. Emulating Tom's style is fairly easily since it doesn't require too much effort.
Find casual blazers. This type of jacket is used by Tom to dress up a t-shirt and jeans or complement standard slacks. It should appear as if little time was spent putting this type of outfit together. Make sure bright colors are avoided. The blazer should mute other parts of the outfit.
Pick the classic black tie and suit for formal events. Suits with the standard piping down the side with plush lapels are perfect. Formal events are an opportunity to blend in as part of the establishment and pay homage to the fashion greats like Gucci and Hugo Boss.
Accessorize with your significant other. It makes a statement when there are subtle references to the outfit the date for the evening is wearing. It may take the form of a complimentary color scheme or a similar theme in style of clothing. This is a subtle trademark of Cruise.
Keep it simple. The KISS method is always appropriate in men's fashion. Tom Cruise exemplifies this approach in much of his attire. The best way to emulate Tom is to be classic and simple without a whole lot of fuss and fanfare.