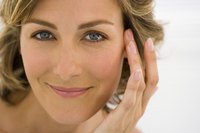 Most women will agree that they would love to diminish the look of their wrinkles. Chances are, whether they have those fine little wrinkles begining to form around their eyes or one little wrinkle near their mouth, that's all they see when they look in the mirror. But with the many choices in beauty treatment products and a bit of practice, women can hide these wrinkles -- even from their own critical eyes.
Things You'll Need
Wrinkle filler
Foundation
Cosmetic sponges
Coverup cream
Blush or bronzer
Face cleanser
Lipstick
Start with a clean face. Gently wash it with a gentle cleanser that doesn't make your face feel dry. Remember, lack of moisture is one cause for those wrinkles in the first place.
Apply a product that will help fill in the lines, such as one with a collagen filler. Using your finger -- make sure it is clean -- carefully squeeze some of the filler onto your finger. Smooth it over each wrinkle you wish to cover. Now blend the filler into your skin.
Wait three to five minutes for the filler to dry.
Use a cover-up. Among the best ones are those that come in a tub and are applied with a brush. Choose a shade as close to your skin tone as possible. Brush the cover-up over the top of the wrinkles. Now gently blend this into your skin. You can also use this cover-up around your eyes if you have dark circles.
Apply a light foundation over your entire face. Liquid foundation applied with a sponge will give you better control. Apply a little around the bridge of your nose, on your nose, under your chin and on your neckline, too.
If you wish, apply a light powder over your face. It may not be necessary if you are using a quality foundation.
Finish with a light touch of blushing powder or bronzing powder and a pretty shade of lipstick to bring out your color.