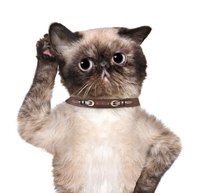 Cats have a reputation for being aloof, but with a deaf cat, it's not personal. Whether your elderly kitty quits coming when he's called or you've generously adopted a younger, hearing-impaired cat, raising your voice typically won't get their attention. You'll have to explore imaginative ways to communicate with your special guy, such as light training, deterrents, positive reinforcement and using vibrations to your advantage. Even sign language is a possibility when trying to communicate with your deaf cat.
Getting Kitty's Attention
When a deaf cat reaches up to claw the side of the sofa or braces to jump on the counter, yelling, "Stop!" won't work. The VCA Animal Hospitals website advises that a small squirt of water streamed from a squirt bottle will do the trick of getting a deaf cat's attention without hurting him. Squirting water will stop unacceptable behavior, but catnip is another attention-grabber that reinforces appropriate behavior for deaf kitties. Sprinkle dried catnip on and around his scratching post or kitty bed. Rubbing fresh catnip in these places is effective, too. Additionally, giving your deaf cat a treat when he chooses approved areas to lounge or scratch is another way to communicate that he's done right.
A Little Light Communication
Lights are useful tools for communicating with deaf cats. For example, you can avoid surprising your deaf cat by flashing the lights off and on when you enter a room. For more focused communication, you can use a flashlight or penlight in the same way clickers are used to communicate with and train cats who can hear. On CatChannel.com, certified cat behavior consultant Marilyn Krieger recommends introducing your deaf kitty to the concept by flashing the light on the floor or wall in front of him, then tossing him a treat. You shouldn't aim the light at your kitty's face. Once he starts associating the light with a treat, use the flashlight to let him know when it's dinner time or even to teach him to sit or shake your hand.
Feeling the Vibe
A deaf cat may not be able to hear, but his body is still sensitive to vibrations. You can get his attention or alert him to your presence with a light stomp on the floor or rap on the wall or a table. It's not necessary to shake the foundation of your house to get your cat's attention. Your deaf cat will respond to even softer vibrations, such as moving a cushion on the sofa to let him know you're there when he's sleeping.
Sign Language
The Humane Society of Missouri says that hand signals, specifically American Sign Language signs, are useful for communicating with deaf cats. You don't necessarily need to learn official sign language. You and your deaf kitty can develop your own signals. For example, gently reach out your hand and beckon him to you. When he approaches you, produce a favorite treat and reward him. Cats are smart cookies, and using treats as positive reinforcement will help a deaf cat understand what specific hand signals mean. Just make sure the whole family knows the signals, so everyone can communicate with your deaf cat.