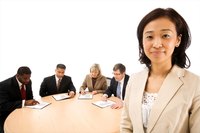 How to Gain Respect as a Leader. As a leader, it is vital that the people you are leading have respect for you. If you have their respect, they will work harder and longer to help you reach your vision. In order to achieve that, though, you need to follow the steps below in order to gain their respect in your leadership capabilities.
Develop a vision for your company. You should have a dream and a plan on how you are going to reach that dream. Your vision should be shared with all the people you are leading with enthusiasm and confidence.
Listen to the people you are leading. Find out what their wants, needs, skills, aspirations and frustrations are. Listen to they ideas they have that will help you carry out your vision.
Serve the people you are leading by making sure you are doing everything you can to address their concerns and improve their welfare. Make sure you are supporting their efforts and motivating them to help you reach your vision.
Have confidence in your abilities. You will never gain respect if you falter on what you are supposed to be knowledgeable about. Make sure that you know your job, as well as the jobs of the people you are leading, thoroughly and with confidence. As a leader you should be able to answer questions and train employees.
Earn trust from the people you are leading. Be honest with the people you are leading. If you are found out in a lie, you will never be able to gain respect as a leader.
Motivate employees by making them a part of what is happening in the company. You can motivate employees by always remaining positive and confident that the tasks they are working on is valuable and making a difference in the company.