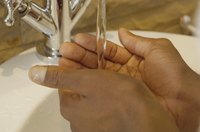 With symptoms ranging from nonexistent to life-threatening, cholera tends to sweep through regions that have been hard hit by disasters or are struggling economically. Most travelers don't have to fear this disease. The risk can be cut even further by practicing good hygiene, drinking purified water and eating safely prepared food.
Countries with Cholera
Poverty and strife put regions at risk for cholera -- anywhere that deficient or crumbling civic infrastructure compromises water and food supplies. Countries popular with travelers that have reported cholera outbreaks since 2010 include Mexico, India, China, Kenya, Nepal and Tanzania. Between 1999 and 2011, the Centers for Disease Control and Prevention logged 86 cases of cholera treated in the United States, all acquired while traveling abroad. The CDC has pinpointed two cases of cholera contracted on international flights, the latest in 1992, from tainted food served aboard the planes.
Transmission and Symptoms
Cholera is only transmitted between humans, unlike some travel diseases spread by mosquitoes and other hosts. The World Health Organization warns travelers that sick individuals who have tainted food or water with vomit or excrement spread the disease, such as food service workers not washing their hands after using the bathroom. You can get infected with the bacteria and not have any symptoms or you can develop a mild case where the only symptom is diarrhea. In the worst case and least likely scenario, cholera can cause victims to be bedridden with diarrhea, nausea, vomiting, cramping and severe dehydration which has to be treated promptly to avoid death.
Risk and Prevention
Most travelers, even those visiting countries where cholera is present, are at a low risk for contracting the disease because of the effectiveness of basic sanitation know-how. You're at the highest risk of contracting cholera if you're spending extended time staying in a setting where cholera easily spreads, such as giving humanitarian aid at a refugee camp on a volunteer vacation. After an outbreak of cholera began in Haiti in 2010, the CDC cautioned all travelers to the country to be prepared with antibiotics in case diarrhea hit, as well as water purification tablets and oral rehydration salts. Stay safe in cholera-prone countries by drinking and brushing your teeth with only sealed bottled water, washing hands with soap and purified water, using restrooms, peeling produce and cooking food thoroughly.
Cholera Vaccination
No countries require proof of a cholera vaccination before they let you in, according to WHO. It's actually considered such a low concern for the U.S. that there is no approved vaccine available here. Ask your doctor if visiting a region with cholera is considered risky, especially if you're pregnant or have preexisting conditions. Your doctor may recommend other vaccinations when traveling to regions where poor water and food quality tend to spread illness, such as typhoid fever or hepatitis A.