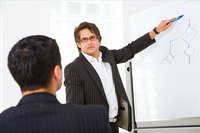 How to Inspire Team Creativity. Inspiring team creativity in your employees is always a worthwhile endeavor. Doing so leads to a healthier and more productive working environment and happier employees as well. With a little planning and ingenuity on your part, your employees can feel comfortable sharing their innovative ideas to help the company thrive in no time at all.
Encourage employees to share their ideas and offer input before you make certain decisions. In doing so, you're allowing your employees to think more creatively about their jobs and how best to achieve success.
Hold regular brainstorming meetings with your team prior to starting projects, or before tackling a particularly challenging task. Employees can then feel free to share their ideas, and can develop new ways of approaching potential obstacles in their tasks.
Work individually with employees to discover what parts of their work they love, and which parts they don't. Make changes to their job descriptions based on their responses in order to create a workload that can inspire them.
Sponsor team-building events, encourage employees to take walks outside in nice weather and order lunch for your team a few times a month. By making work fun, you can boost team morale, foster a creative corporate culture and inspire creativity.
Update employees on company goals, and let them know how their work contributes to corporate successes. When employees feel engaged and valued, they feel more comfortable sharing innovative ideas to further the growth of your business.
Remove the obstacles to creativity. Ask team members what changes to their working conditions would help to inspire them and enjoy their jobs more.