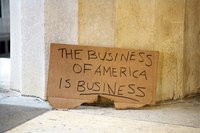 How to Write a Business Slogan. Your business slogan will be a key to your developing enterprise. A slogan should fit the needs of the business owner and the customer. It should be a clear communication about the role of the company and the products or services it provides. And finally, it should be catchy, not boring. It's a tall order and crafting the right slogan requires both creativity and concentration.
Address the product. A slogan that doesn't direct a reader to products or services is not effective. Your slogan doesn't have to actually include your product, but it should contain clues to the role that your company plays in society.
Be creative. A good, catchy slogan will get the customer's eye and attract business. A dull, boring one will likely not get the desired result.
Keep it short. A slogan that is too long will give you headaches when you try to get it printed or put on merchandise. Come up with a quick, punchy way to communicate yourself to the customer.
Don't retread old ground. Aside from obviously trademarked phrases, stay away from all slogans that might remind customers of some other company. Your slogan should be new and interesting in a way that keeps your company in the front of the consumer's mind.
Try out your slogan on a research group. Getting diverse opinions can tell you if your word usage is popular, how understandable your slogan is, and other salient points. Your research group will play a key role in determining what your slogan will actually be.