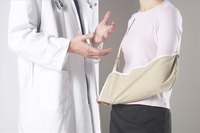 How to Identify a Broken Arm. The quicker you have a broken arm attended to, the faster it will heal. Use these steps to identify whether you or someone else has broken an arm.
Watch for swelling. Swelling is a common indicator of a broken bone. The swelling presents at the site where the break occurs. The area around swelling may also feel warm. This is due to the increased amount of blood in the area due to the swelling.
Make sure the arm can move. Lack of mobility indicates possible nerve damage. More indicators of nerve damage from a broken bone are tingling and numbness.
Identify any deformity. Use the other arm as a guide. Check to make sure both arms match. Bends where the arm should be straight indicates a broken bone.
Verify there is no broken skin. It is possible that the bone punctured the skin and is protruding. It is also possible that it broke the skin but is not sticking out. Either way, the bleeding must be slowed and an ambulance should be called, or the person rushed to the hospital immediately.
Gauge pain level. Identify any severe pain. Persistent pain is also a way to identify a broken arm, even if not severe.
Test the arm for weakness. Have the person grab something and hold it, and lift it up both with the arm facing up and down. Weakness can indicate a broken bone.