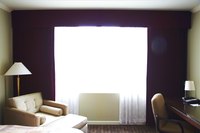 How to Buy a Hotel Business. Tourism is a booming industry. When people travel they need a place to stay-this is where you come in. Owning a hotel is a rewarding experience. Buying a hotel is a little more challenging. Location will be one of the keys to your success-appearance will be another. You will always have a home of your own if you choose to buy a hotel.
Pick a location that is attractive to you. Decide how large you want your hotel to be, how many rooms and what the amenities will be. You will need to decide if you want to pursue a franchise, turn-key or independent hotel.
Determine the real reason the current hotel owners want to sell. Ask a lot of questions and get answers that can be verified and that make sense.
Check the financials for the hotel dating back at least ten years. Also find out about the town's plans for development and any repairs that may need to be made that will interrupt business.
Ask about competitors in the area and what kind of reputation the hotel has. Make sure there is plenty of parking available.
Examine the hotel from the inside out. Look at every inch of the building with a contractor you trust. Get documentation of all repairs and remodeling bills.
Discuss your desire to buy a hotel with your family and friends. Put together a financial advisory board to help you attract investors.
Communicate all your thoughts about the purchase before you sign on the dotted line. Once you sign the hotel becomes your property and responsibility.