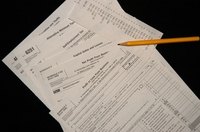 IRS Form 2106 allows taxpayers to deduct unreimbursed employee business expenses from their federal income taxes if they itemize deductions. The total from Form 2106 is included in Schedule A (Form 1040) under "Job Expenses and Certain Miscellaneous Deductions." Some individuals such as military reservists may qualify for different treatment of these expenses under the Form 2106 Instructions.
Things You'll Need
Schedule A (Itemized Deductions)
Read the Form 2106 Instructions to make sure you are familiar with all opportunities to deduct your business expenses. Form 2106 prompts you to deduct auto expense and meals and entertainment. You may also be able to deduct costs for home office expense, publications, work clothes and other costs depending on your type of work.
Plan to fill out Form 2106 by making a list of the basic categories of your employee business expenses. Code your check register and credit card statements as you incur these expenses throughout the year.
Assemble your employee expense records and expense account reports. Total your expenses and any employer reimbursements in each category for the year.
Check the current year's federal per diem rate for travel on the GSA Domestic Per Diem Rates webpage (see Resources below). You may be able to use per diem rates, rather than actual expenses, for some travel expenses. Follow the Form 2106 Instructions.
Enter your allowable expenses expenses on lines 1 to 5 of Form 2106 and total them on line 6.
Subtract employer reimbursements on line 7. Multiply your meals and entertainment expenses by the allowance on line 9.
Total your deductible employee business expenses on line 10 and enter the total on line 21 of Schedule A.
File Form 2106 with Schedule A and your completed Form 1040 income tax return.