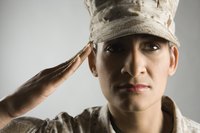 When you serve in the military reserves or the National Guard, you may have a long drive to get to your training or duty assignments. If the trip takes you more than 100 miles from your home and involves at least one overnight stay in a motel or other lodging, you can take reservist travel expenses as a tax deduction.
IRS Reservist Travel Expense Rules
It is not necessary to file an itemized tax return to claim unreimbursed military reservist travel expenses, because the Internal Revenue Service puts them in the same category as unreimbursed business expenses. That means reservist travel expenses reduce your adjusted gross income. You can write off mileage at the IRS standard business rate. In addition, tolls, ferry fees and parking are deductible. You can also claim meals, lodging and incidental expenses up to the federal per diem rate. Fill out IRS Form 2106 or 2106EZ to calculate and report reservist travel expenses. Enter the total on the appropriate line on your tax return. Mileage rates, per diem amounts and other limits change from year to year, so check the IRS website for the figures that apply to the year when you traveled.