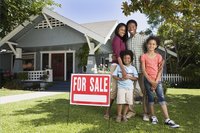 How to Calculate Property Sales Tax. Property sales tax is a special type of tax imposed by the city on the real value of a home, building or property (including land and developments). Other items are also considered property and thus subject to sales taxes, such as the natural resources located on a parcel of land, even if the land itself belongs to the government.
Find out if the type of property you are looking to buy or sell is taxable. Properties that fall under the property sales tax include: land (no matter if empty or built upon), all kinds of buildings, farms and mobile homes. Areas of land covered by timber also qualify under this system and regulation.
Get a property assessment by a qualified professional. This will help you establish the property's real value in the open market. Taxes are based on this assessment, not on the final price for which the property is sold. To get an assessment, you need to request one with city officials and then wait for the assessor to examine the property and calculate the real market value.
Claim any deductions you believe you have at the time of the assessment. You should be able to get a lower market value if your house requires extensive reconstruction or changes. This will affect the percentage of property sales taxes you are charged, but also reduce the value of the house itself. You should therefore consider both sides when making a decision to claim a deduction.
Find out the tax levy for your jurisdiction. This is a number determined by many factors, from the area budget to how much tax is already being collected by the city from other sources. The tax levy is usually immovable and is quite different from the sales tax that you are used to paying at the time of buying goods.
Calculate the final property sales tax by dividing the city's tax levy by the city's total tax percentage charged to every property, depending on area regulations. These numbers depend on a variety of factors and vary widely within a single state.