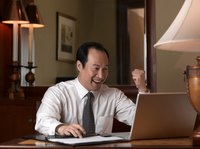 Capital One offers a wide selection of credit card accounts tailored to customer needs. Some Capital One cards require top-notch credit ratings, while others are designed for consumers with average credit or individuals who are rebuilding their credit. Before you start your application, browse Capital One's credit card products and pick the one that's right for you.
Preapproved Offers
Capital One sends a lot of preapproved credit card offers in the mail. "Preapproved" means you may qualify for a card, not that your application will automatically be accepted. Go to the website address printed on the credit card offer and enter the registration number and access code. The system will take you to the online application form.
Responding to Ads
If you're responding to an ad instead of a preapproved card offer, go to Capital One's online "Find a Card" list of credit card products. Click on "Apply Now" next to the credit card you select to go to the application form.
Complete the Application
On the online application form, enter your name, date of birth, physical address and Social Security number. Furnish an estimate of your yearly income. You may be approved within 60 seconds. If Capital One needs more information, you will get a decision in seven to 10 business days. You can't use a post office or private mailbox address or include a co-applicant. However, if you are approved, you can change your billing address and add additional card users later.