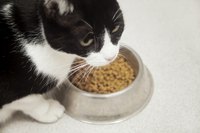 Irritable bowel syndrome is typically a stress-related, psychosomatic condition characterized by diarrhea, cramping, difficulty passing stool and urgency. Unlike inflammatory bowel disease, IBS has no physical cause and the exact cause of symptoms might not always be known. Other potential causes of IBS include dietary issues and changes in the chemical functions of the bowel. Prevention of IBS through diet and stress relief also is considered a means of treating it.
The Diagnosis
Irritable bowel syndrome is often diagnosed by ruling out physical causes through a biopsy or by presence of blood in the stool. Diagnosis of IBS also must include ruling out physical causes such as whipworms and other parasites, allergies and tumors or other physical abnormalities of the bowel itself. Poor diet and reactions to medication also can cause IBS.
Reduce Stress
Stress reduction is a primary means of treating IBS. If a cause of the cat's stress can be identified, it should be removed from her environment as soon as completely as possible. If the cause of a cat's anxiety cannot be removed, medication may be an alternative to reduce the anxiety.
Your Cat's Diet
Cats with IBS should be fed highly digestible foods. Yogurt with lactobacillus and licorice are thought to be helpful as dietary supplements. Increasing the fiber in your cat's diet also can help improve the physical IBS symptoms.
The Right Medication
Antianxiety medication may help relieve anxiety if an environmental cause cannot be identified. Antispasmodic medication also may aid in treating IBS. Medications such as prednisone and budesonide may be helpful in the treatment of IBS.