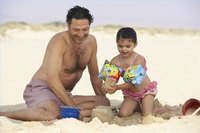 How to Trim Chest Hair. A little chest hair can be very sexy but a lot of it makes you look like a woolly mammoth. Of course, in the wintertime it's not as noticeable but when summertime comes around the shirts come off. A shaved chest also defines muscles making the male physique appear more defined. Follow these steps to learn how to trim chest hair.
Shave your chest hair if you want to save money or if you're embarrassed to go to a salon. Start out by using a beard trimmer and trim some of the hair so you don't clog the razor. If you're happy with just trimming the chest hair stop here, otherwise continue.
Take a warm bath and soak your chest in the water. This will soften the hair on your chest. Apply shave cream and let it sit for ten to fifteen minutes.
Use a top-of-the-line razor such as the Mach 3. Shave in the opposite direction that your hair is growing to trim it. Rinse the razor continuously because it will clog quickly.
Rinse your chest well. Pat dry with a soft towel. Apply a skin soothing lotion to the freshly shaved chest.
Exfoliate the chest regularly to remove dead skin cells. These tend to clog your pores resulting in razor burn and bumps.