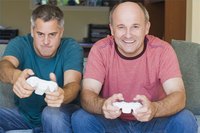 How to Cure Baldness. Thinning hair is a problem for millions of Americans and over 1 billion people across the world. A common misconception is that it only happens to men. That is not true, as many women suffer as well. Here are some tips on how to cure baldness in males and females.
Use a topical solution. Rogaine is the most popular. Now over the counter, there are some generic forms which are slightly cheaper. Rogaine (whose active ingredient is minoxodil) is a cream or foam-like substance that you apply to your head. However, it should be noted that it does NOT work on the hairline, only the crown of the head. There is also a special formula for women, as "male pattern baldness" is different than the thinning that women face. So if you are a female, be sure to buy Rogaine for women.
Take * to help cure your baldness. * cannot be taken by women, it is for men only. It is a daily tablet that must be taken for the rest of one's life. (The generic name is Proscar, and is now available.) You will need a prescription for or Proscar. See your dermatologist to obtain the script. Again, this medication does not work on the front of the hairline, only the crown. However, in younger males who start taking it early, it has been effective in "keeping" hair in the front.
Have a hair transplant procedure. Long gone are the days of bad plugs that look like doll's hair. Science has advanced to the point today where a hair can be replaced one follicle at a time, leading to results that are undetectable unless under a microscope. Procedures are outpatient and people are back at work within a day or two. It should also be noted that the strip method is also becoming out of date. That's where a strip of the back of your head is removed, then dissected, your head is sewed up and the hair transplanted. Now doctors can remove hair from the back of your head one by one, leaving absolutely no scar at the back.
Try the laser light comb. This exciting advancement was recently approved by the F.D.A. It has been shown that light therapy can help re-grow hair. And, unlike other treatments, not just in the crown of your head, but in the hairline as well. Check out Hairmax website for more details (see Resources below).
Sprinkle topical powders. There are products on the market such as Toppik, which are small fibers that you can sprinkle onto your hair. This works fantastically for women, as they usually have a general thinning rather than receding. The fibers attach to the surrounding hair, making it seem fuller.
Stop caring about your baldness. While going bald can cause a slow, stirring panic, sometimes the moment you accept something, liberation occurs. There are many sexy bald people walking around.